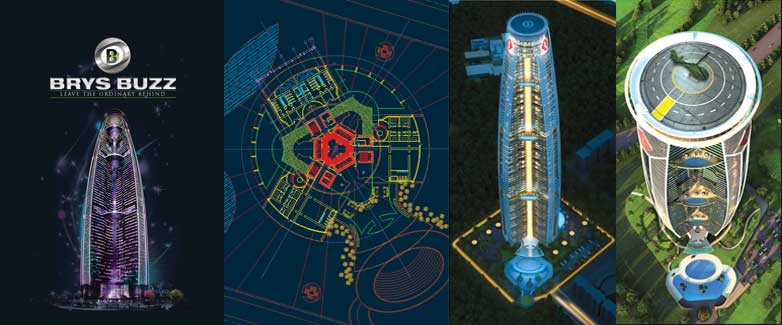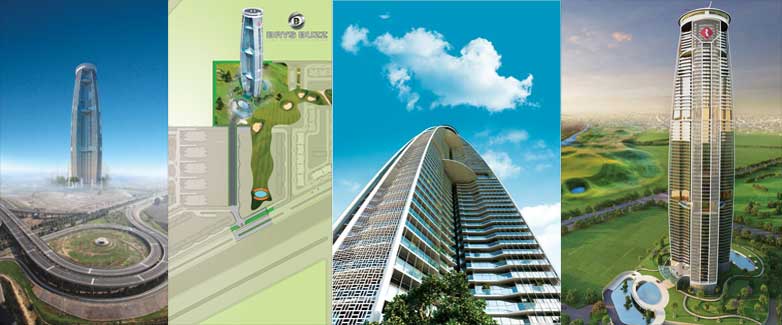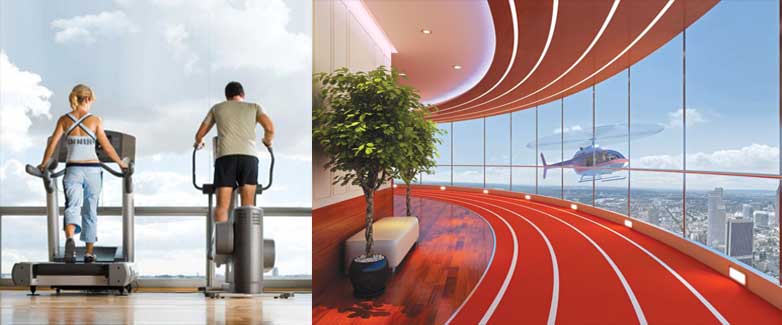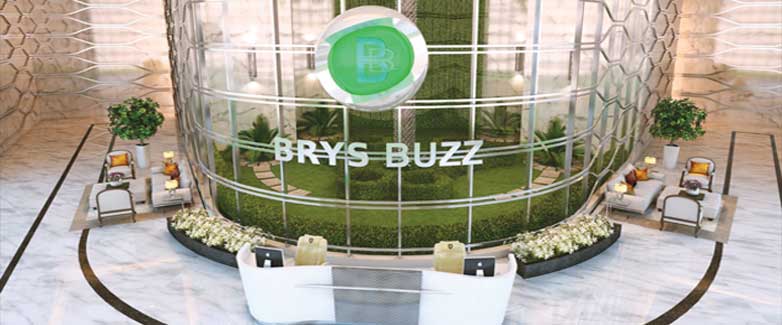 Join BRYS BUZZ and create your own BUZZ.


292 Meters || 81 Stories || 291 Residences || Price 3.75 Cr. Onwards || Expected Possession 48 months || Land Area 7 Acres
The location
But the euphoria was short lived. As I went through my thoughts again and again it brought me face to face with a much bigger problem—a befitting landscape that would provide the backdrop for my grand ambition. Days turned into weeks and weeks turned into months and I didn't have what I was looking for. That was one of the most tortuous times of my life. I must have scavenged acres of land all around NCR but none seemed exciting enough. Those were trying times but I didn't lose hope.
Then one day took me to Sports City in Sector 150 of Noida. It was close to Noida Expressway. As the SUV I was travelling that day came to halt I waited for some time for the dust the wheels had thrown to settle down. It wasn't a view a poet would have marveled at. But the builder in me knew that I had struck a goldmine. I knew that at last I had found the perfect setting for BRYS BUZZ.
The pièce de résistance turned out to be the fact that it offered something no place in Delhi NCR or for that matter any metropolitan city in the country can offer—a plethora of sporting facilities, both outdoors as well as indoors.
Evolution
Challenges by nature throw more challenges. They test our commitment and provide us with an opportunity to prove our mettle. For me that moment of truth had come when I realized the kind of homes I wanted to build. Though I knew that the task I had set forth before myself would not be easy but I never realized how difficult the proposition would ultimately turn out to be.
I left finalizing details for some other time. What kept me engaged was arriving at a design. Some of
the benchmarks I had set before myself were:
It had to be nothing but the best. Something of the sort India had not yet woken up to.
It had to be the tallest. The only limiting factor would be the building laws.
Design-wise it had to be exclusive. The building had to inspire awe.
As far as facilities were concerned they had to be at par with international standards.
And most of all the building should have green footprints by maximizing the use of energy efficient technologies.
What started next was the most challenging part—finding an architect. We literally turned into globetrotters. Hopping from one city to another we stayed at best hotels, visited landmark structures such as Burj Khalifa, understood their inherent design principles and getting feel, in general, of what makes them exclusive. Simultaneously we also interacted with the best minds. Picked up their brains while keeping a constant look out for the architect before finalizing upon H-AO Architects, Dubai as the Principal Concept Architect of BRYS BUZZ.
Innovation
The brief to the architect was simple. No doubt the building had to be spectacular but yet at the same time it had to confirm to the toughest international green norms. We wanted to turn the building into an energy efficient structure. We wanted it to become a dynamic complex interacting positively with the environment, saving energy, maximizing use of renewable energy sources and conserving resources while improving indoor air quality. We wanted BRYS BUZZ to be built as per most stringent international LEED Platinum green building norms of US Green Building Council.

It is easier said than done. First of all constructing green building is a costly proposition. But savings through lower operating costs over the life of the building offsets the initial premium. Secondly, since the buildings today are closed structures they also increase the chances of respiratory diseases, allergy, asthma, sick building symptoms and reduce performance in general.

In light of the above we knew that BRYS BUZZ had to provide adequate ventilation through a high-efficiency, in-duct filtration system. The construction material and interior finish products had also to be such that they improve indoor air quality and prevent emission of toxic gases such as Volatile Organic Compounds (VOC) etc. We wanted to give you homes, which are not just four walls and a roof above but also keep you healthy.


Automation
I knew that BRYS BUZZ had to be spectacular. For me it was not just the structure but interiors as well. That the building should breathe fresh energy was taken care of through strict adherence to international green building norms, what came next in my priority was to impart BRYS BUZZ the touch of technology.

For inspiration I looked the world over and visited some state-of-the-art buildings. My stay in some of these landmark hotels such as Armani, Burj Khalifa in Dubai and visit to a few private homes led me to Home Automation System.

You may say that there is nothing new in this as few buildings in the country already offer this facility.
Agreed, but what will make Home Automation System at BRYS BUZZ stand apart from the rest is the technology that will go into it. In the common parlance it will be what separates iPhone from other smart phones.

At BRYS BUZZ not only the technology will be robust but it will also be scalable and foolproof. The BUZZTAB to control various functions such as drawing/closing of curtains, dimming/brightening of lights, unlocking the main doors etc. will not be a low-cost product. Rather it will feature latest specifications, with high-speed processors and bright displays. At BRYS BUZZ, rest assured, I am taking utmost care to give you a home, a person of your stature truly deserves.


Relaxation
Yes, I wanted BRYS BUZZ to be stunning but above all I wanted it to be an experience. It meant taking BRYS BUZZ to the epitome of experiential delight and offer what no building can even think of providing.

What I had at BRYS BUZZ was one of the tallest exclusive residential buildings in India. It led me plan facilities and amenities that made optimum utilization of its height. So at BRYS BUZZ, you not only have a helipad at the crest of the building but also get a jogging track at the topmost levels. At nearly 300 mt. above the ground you also get to enjoy Club with facilities such as Observatory Deck, Lounge Bar, Multi-cuisine Restaurant, Sky Garden… the list goes on and on.

Closer to birds, closer to clouds and closer to stars and the moon, it opens before you a stupefying world, a faint glimpse of what you may have had only in fairy tales.

Down below at the lower levels we have brought you a world of your own. We have planned BRYS BUZZ as a self-sustaining complex with in-house Hyper Market, Salon, Drycleaner, Laundry, Housekeeping and In- room Dining Facility amongst others. In short, we've ensured that at BRYS BUZZ you'll lead a lifestyle that will complement your stature.


Ornamentation
Obviously, the concept of building had turned out to be spectacular. The facilities were great. It offered fine lifestyle. It was energy efficient and had green footprints. But something still lurked in my mind. "Is a building only about its structure? Agreed BRYS BUZZ offered the finest of international living experience, but what about its interiors? Was it as plush as I wanted it to be?

It was chance remark by one of my friends and I knew I had my answer. Meeting with Tonino Lamborghini CASA followed. I came out excited not just because their work was incredible but the fact that BRYS BUZZ would have a dash of coveted Italian touch, that too of as incredible lineage as Lamborghini.

With this last piece of puzzle falling in place, I knew that my quest to create one of the most luxurious high-rise signature residential apartments was over.
Gratification
Still there was one more thing that lurked in the corner of my mind. At first they appeared to be tiny, insignificant, something of the sort which are left for the residents to manage themselves in due course of time. But this was not to be the case with BRYS BUZZ. Right at the outset I had committed myself to build a home that would outdo any other residential structure in every aspect and this was the time to take it further.
My team and I sat down for a longish brainstorming session and we made a list of things that, if they existed, would make life really easy for the residents when they shift in to their magnificent homes. It was a longish meeting and took some days for us to arrive at the whole lot of facilities that we wanted to incorporate.
What we had wanted was to ensure that the residents of BRYS BUZZ don't have to fret and fume for any trivial matter. After all we are committed to make our residents to lead a magnificent lifestyle that is truly international and comparable to none.
Site Plan only available on request.